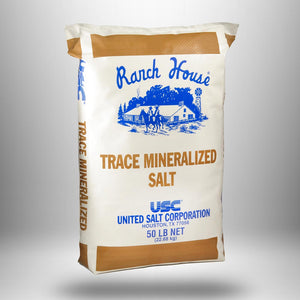 Salt, Trace Mineral Bag, 50lb
Salt helps maintain many of the necessary bodily functions needed for life. The minerals included in the  Ranch House Trace Mineralized Salt can help build and maintain strong bones, muscles, and organ function in livestock.
Salt, calcium sulfate, iron oxide, manganous oxide, zinc oxide, ferrous carbonate, calcium carbonate, copper oxide, calcium iodate, cobalt carbonate, sodium selenite, molasses products, natural and artificial flavors.
---
We Also Recommend