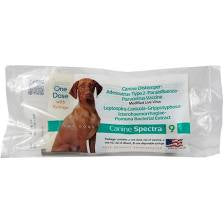 Spectra 9 Canine Vaccine
Economical Dog Vaccine 
Annual revaccination with a single dose is recommended.
A recommended vaccination schedule should start at or about 6 weeks of age. Puppies should be revaccinated every 2 to 3 weeks until at least 16 weeks of age. All dogs over 12 weeks of age should initially receive one dose of Spectra 9 and a second dose 2 to 3 weeks later.
For the prevention of disease caused by Canine Distemper, infectious Canine Hepatitis, Canine Adenovirus Type 2 (CAV-2), Canine Parainfluenza, Canine Parvovirus Type 2b, Leptospira Canicola, Leptospira Grippotyphosa, Leptospira Icterohaemorrhagiae, Leptospira Pomona.
---
We Also Recommend