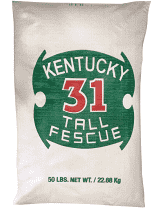 Kentucky Fescue, 50lb
Kentucky Fescue is a hardy, deep rooted bunchgrass that is tolerant of intensive grazing and animal traffic. It withstands heat and dry conditions better than other cool-season grasses. Fescues are used in pasture, roadside and waterway mixes.
Wide leafed, deep rooted bunch grass for lawns, parks and athletic fields
Excellent heat, drought and water tolerance, usually staying green all summer
Adapted to clay, loam and sandy soils
Heavy deep roots provide excellent drought tolerance
Plant 15-20 pounds per acre.
---
We Also Recommend