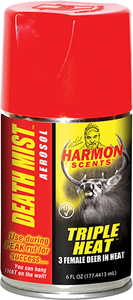 Harmon Triple Heat Aerosol Spray, 6oz
The strongest doe in estrus urine ,3 female deer in heat used in an aerosol disbursement system. Harmon Scents are strong and very effective. Just pop the distinctive fluorescent orange top, aim and spray.
Collected fresh, and sealed in an airtight container, this is very fresh urine. Deer hunters can use it to spray into scrapes, mock scrapes, on decoys, leaves of bushes, trees, scent wicks, drag rags, the leaves over a scrape, the bottom of boots or spray in the air with the wind going away from you.
---
We Also Recommend