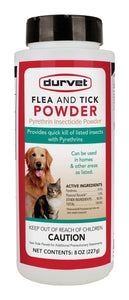 Flea and Tick Powder
A versatile Pyrethrin insecticide powder that provides quick kill of listed insects. This product can be used in homes, institutions, food/feed plants, poultry houses and many other listed areas. It also treats lice, fleas and ticks on dogs and cats.
Not approved for sale in Connecticut, Hawaii or Rhode Island.